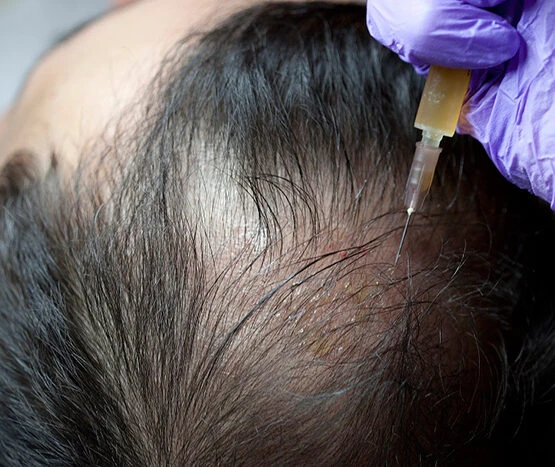 PRP HAIR TREATMENT
LENGTH: 45 – 60 minutes
Synopsis of Procedure:
PRP hair restoration is a non-surgical therapeutic option for patients who require stimulation of hair growth for hair loss conditions as well as, for those looking to enhance a hair transplant
Alternative Names:
PRP Hair Loss Treatment
Downtime:
0 Days off from work 12 hours before resuming physical exercise
INVASIVENESS 40%
PAIN FACTOR 20%
What is PRP?
PRP (platelet-Rich Plasma) is derived from an individual's own blood. Plasma contains high concentration of platelets, stem cells and growth factors. PRP has been used for decades in sport medicine, Dental surgery, Reconstructive surgery and orthopedic medicine to help speed recovery. In more recent years, PRP is used for hair restoration therapy, as the growth factors in the PRP will naturally stimulate hair growth.
The best candidates for PRP hair restoration are patients with areas of thinning hair or weak hair growth on the scalp, but still functioning hair follicles. People who have lost all hair cannot use this treatment
What results can be expected.?
Hair growth improvement can typically be measured at 3 months, but it usually takes about 6 to 12 months to see noticeable results. Some people will notice the improvement in the density and thickness of the hairs. Results are natural and gradual.
PRP Recovery
Some brief mild redness and numbness of the scalp may be present for several hours. Most patients can return to work immediately after. Patients may shampoo their hair normally and resume normal daily and athletic activities just 12 hours after the treatment. No harsh chemical coloring or perming treatments should be performed for at least 72 hours.
How is PRP Hair Restoration Performed?
First, our nurse will draw blood in a small tube from the patient's arm. The blood tube is then put into a centrifuge, which spins the tube for 10 minutes to separate the PRP from the red blood cells. Once the PRP is retrieved, our nurse will then injects the PRP directly into the scalp with necessary growth factors. Small injections of PRP are injected over the treatment area approximately 2cm apart.
How long do the benefits of PRP treatments last?
On average, the benefits of PRP Treatments last forever; however, some patients will need to repeat PRP treatment after an average of one year in order to maintain the hair growth effects.
What are PRP risks.?
There is no risk of an allergic reaction with PRP therapy because the enriched plasma is derived from the patient's own blood. The PRP has a concentrated amount of white blood cells, which are the body's natural defenders against infections.
Does PRP treatment hurt?
Some patients experienced PRP Hair Restoration as uncomfortable and sometimes painful. To minimize the pain a topical anesthetic may be used.